Jurassic World: Dominion Dominates Fandom Wikis - The Loop
Play Sound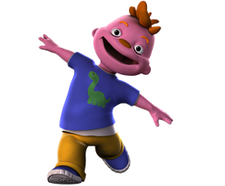 When everyone else walks across the room, Gerald McIntosh pretends to be a bulldozer and "vroom-vrooms" somersaulting over the floor. Although his road to stardom isn't finished yet, it is clear to see that Gerald lacks swag and positive affirmation. He attempts to supplement this by actively chasing May's attention, but forgets that he is too mentally deficient to maintain a meaningful conversation and ends up resorting to comedy taught to him by his distant father. While he is never emotionally or physically supportive of his son, Gerald's unknown father's few interactions with him often result in unwarranted outbursts of his negatively oriented agenda against public schooling, claiming they will never teach Gerald what he needs to know in order to succeed in life. Gerald however, believes that all he needs in life is his friends and the jet fuel of which he claims he requires in order to maintain a safe altitude. Gerald is of course incorrect, and has come to the conclusion that he too closely resembles an airplane to not take on the duties of one. His mother has chalked this up to be Gerald's Cherokee side coming out, showing his spirit connection to aircraft, and has advised the school to embrace this as a gift. This is of course not the case as Gerald is not in Sid's class for just any reason. As Gerald continues this spiral through childhood, he shows no signs of slowing his descent as any working aircraft should be. The perfect run-on sentence to describe Gerald McIntosh would be: "Total instant gratification - boundless boy energy - raises his hand on every question even if he doesn't know the answer - gotta do it right now!"
Age: 4-5 Earth Revolutions
DOB: 2004
Gender: Male
Nationality: Navajo Cherokee Native American
Hair Color: Orange
Eye Color: Black
Skin Color: Pink
Appearance
Gerald McIntosh wears a blue T-shirt with a dinosaur design, khaki pants and blue sneakers. He is pink skinned and orange hair which is unlike the others. He is very smiley which is good.